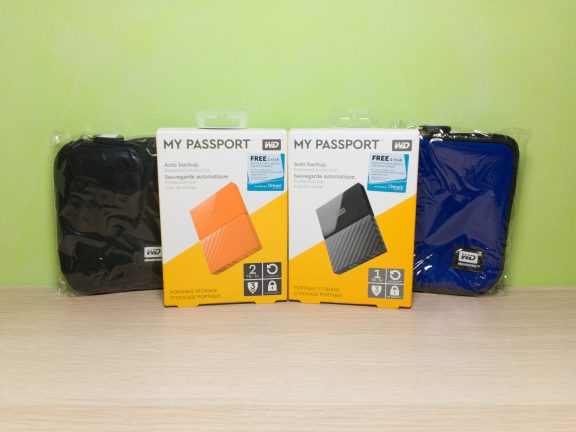 Today, March 31, is the annual World Backup Day. I've never written about it before, but my newest (and thus most current) backup drive kicked the bucket in January this year, leaving me out of a current backup solution for both my Mac and PC as well as resulting in a significant but non-critical loss of data. So I decided for the occasion that I'd use the opportunity to write about my experience with a new, upgraded backup solution, as well as measures I'll be taking to prevent or at least mitigate another data loss like the last.
Earlier this month, my dad picked up some brand new hardware for me: not one, but two WD My Passport USB 3.0 portable hard drives, an orange 2 TB drive and a black 1 TB drive. The smaller capacity of the latter is due to budget constraints, but the idea is that the orange one will be my primary backup drive and the black one will be used for redundancy. The black and blue carrying cases you see were gifts with purchase!
In this entry I'll describe my newest backup strategy and how it improves on the last, as well as provide some unboxing and in-action photos of my new WD My Passport drives.