Well, I haven't blogged about Talk.CSS since my first two times there. That's not good. I had a few more but I never got around to them due to chronic illness, executive dysfunction and whatnot. But today, the only thing I'm down with (and have been since Tuesday) is a throat infection that hasn't gotten worse yet, so I'm making the most of tonight by pushing this one out.
So I went to Talk.CSS today, the first of the year. This time it's at Microsoft Singapore's new office at Frasers Tower. It would be my first time there after my last visit to the old office for last year's Insider Dev Tour, so I was pumped.
But this being a new environment, I had to take precautions to ensure things went as smoothly as possible. To that end I pinged Hui Jing and Wei Gao on Twitter:
@hj_chen @wgao19 What time y'all setting up tomorrow? Thinking of being there super duper early to calm my nerves.

— Daniel Tan (@NOVALISTIC) January 7, 2020
And then I had the brilliant idea of going through Sarah, my Microsoft MVP contact from Microsoft Singapore, as well. It would be my first time meeting her in person. She said she'd pick me up after finishing her meeting; I couldn't go inside so I waited at the lobby for her.
Turns out, when I first got to the lobby, I was so calm that I could confidently decide to tweet this to the former two:
@truckerfling knows I'm here.

Also, don't get too excited when you hear my voice later… because you will hear my voice.

— Daniel Tan (@NOVALISTIC) January 8, 2020
That's right: even before I'd set foot in the new office, my selective mutism was already a no-show. This could have partly been because I made it a point to be early so I had time to collect myself, but I'm serious, it's all Microsoft. My 11 years of guaranteed speech at the old office appear to have carried over seamlessly.
Anyway, Sarah came to pick me up first; it would be another 10 minutes before Hui Jing got there. Naturally, she was the first person I spoke to.
And here I was, at Microsoft Singapore's new office at Frasers Tower: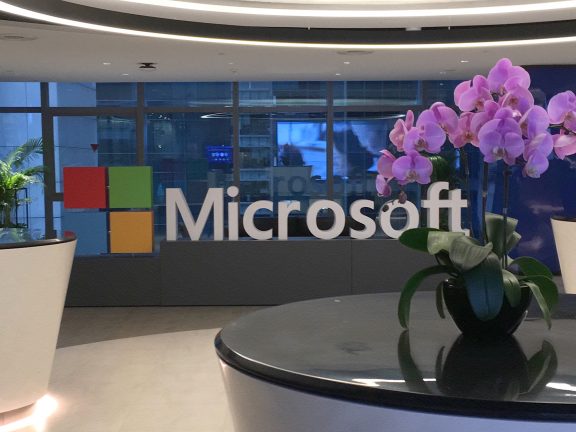 Read on for Hui Jing's reaction to hearing my voice for the first time and, of course, the talks themselves! I know the talks are probably what you came here for but this experience was particularly important to me so I just had to share. Let a disabled person have their limelight, won't you?