Intel processors have not exactly been known for spectacular thermal performance with the included fans, but the issue I recently had with my soon-to-be-four-year-old Intel Core i5-4570 (Haswell) just about takes the cake.
I noticed that my processor was hitting its maximum operating temperature of 100°C when playing CPU-intensive games such as Dishonored 2, Grand Theft Auto V and Battlefield 1, and generally staying well above 90 degrees during gameplay. My PC never shut down in response to this — not even once — but it was throttling quite significantly, going even lower than its base clock of 3.2 GHz, once all the way down to 2.7 GHz at the very worst according to Core Temp: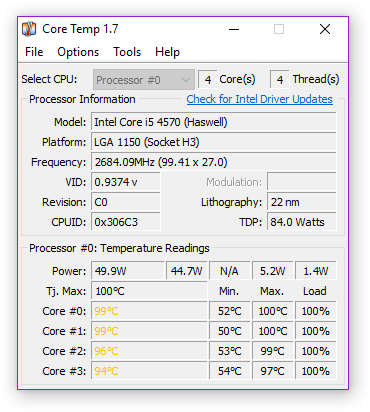 I thought perhaps the fans and the heat sink needed dusting off, but besides the non-trivial amounts of dust on the case fans and the CPU fan, there actually wasn't much dust on the heat sink itself at all. Still I had them dusted, and I checked the temperatures. No dice: my processor was still capping off at 100 degrees. My big brother suggested that I replace the thermal compound that came with the boxed fan.
There are numerous articles and videos out there that demonstrate
how to remove a boxed (stock) Intel or AMD CPU cooler,
how to remove an aftermarket CPU cooler,
how to remove existing thermal compound from a CPU and its cooler,
how to apply thermal compound, regardless of the CPU cooler being used,
how to attach a boxed Intel or AMD CPU cooler, and
how to attach an aftermarket CPU cooler
and generally these work the same way no matter what CPU cooling solution you're using. Except they're all disjointed, meaning you have to connect the dots yourself, which can be intimidating if you've never done this procedure before.
Fortunately, Intel has illustrated guides for removing and reattaching a boxed CPU fan as well as replacing thermal compound on an Intel CPU on their website. The former also appears in the manual for my Intel Core i5-4570. (Bet you didn't know that processors came with manuals.) But what if you really just wanted a single point of reference detailing the steps from start to finish?
That's why I decided to write this post in hopes that it will help others who, like me, don't use aftermarket CPU coolers for any reason (budget constraints, lack of interest in overclocking, etc), and, albeit not quite as much like me, prefer a single, complete guide. Granted there is a bit of storytelling in this one, but I hope it makes things interesting rather than distracting.